When it comes to leasing a vehicle for business purposes, multiple factors come into play. The cost, the duration of the lease, the mileage limit, the deposit and the services included, all play an essential role in the final decision-making process. But, how do you compare various offers and find the cheapest one? That's where Experteye comes in.
Communicated Offers vs Adjusted Rental
At Experteye, we have developed a unique concept called "Adjusted rental". Unlike the communicated offers, which are the figures quoted by leasing companies, OEM captives or brokers, the adjusted rental is a corrected figure that allows for a more accurate comparison. It takes into account various parameters including age and mileage, deposit, and services
included in the leasing contract. For example, consider the following communicated offers for a Medium SUV Petrol in the
France B2B market: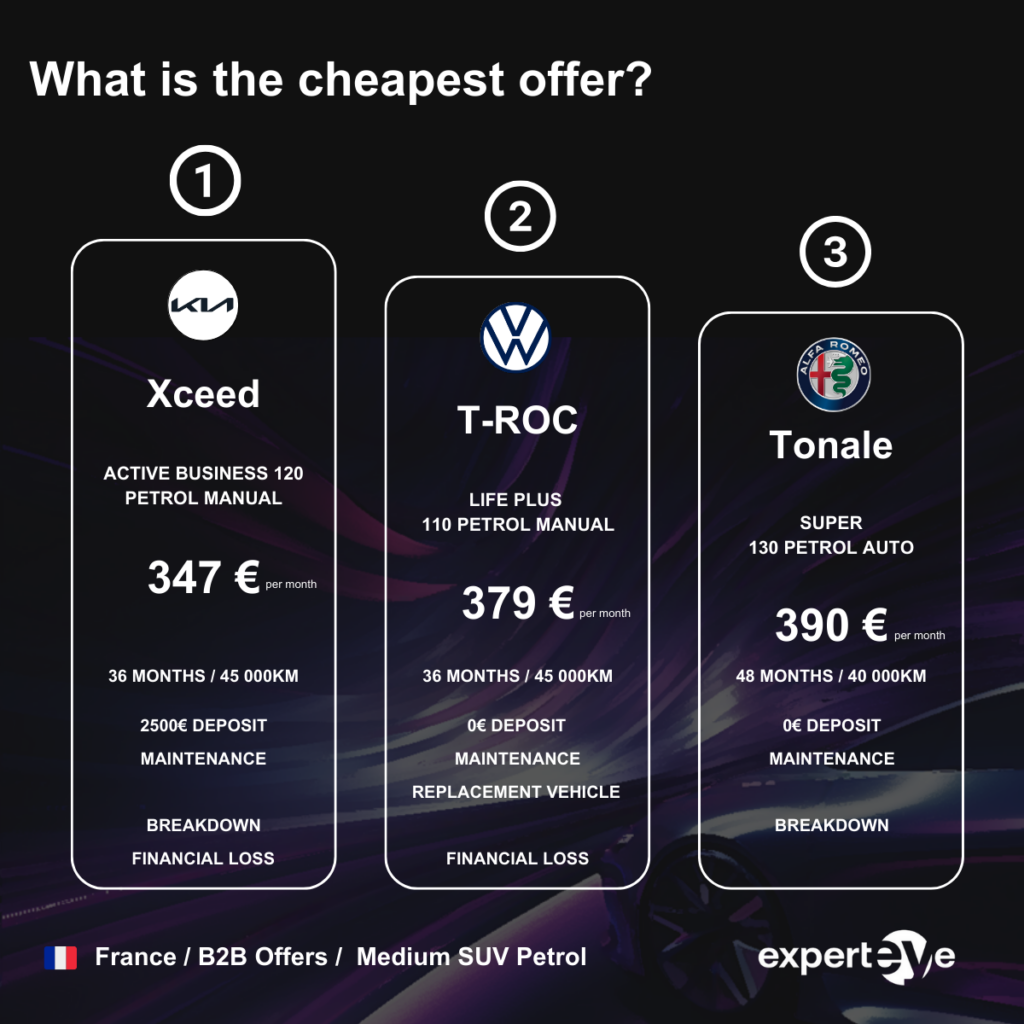 How Adjusted Rental Works
Now, you might be wondering how adjusted rental works and why it gives a more accurate picture than communicated offers. Here's how it works:
Age and Mileage: When comparing two offers, it's not enough to just look at the monthly rental cost. The age and mileage of the vehicle also play a crucial role. A vehicle that has lower mileage might have a higher rental cost. On the contrary, the higher the contract length, lower is the rental cost.
Deposit: The deposit is another important factor. A lower deposit might seem attractive at first, but it might mean higher monthly payments. The adjusted rental takes the deposit into account and adjusts the monthly rental cost accordingly.
Services: Different leasing contracts might include different services. Some might include maintenance, breakdown, replacement vehicle and financial loss, while others might not. The adjusted rental takes these differences into account and adjusts the rental cost to reflect the value of the services included.
By normalizing and adjusting all these parameters, the adjusted rental provides a more accurate comparison of leasing rates. It allows you to see which offer is truly the cheapest, considering all the factors and not just the monthly rental cost.

So, the next time you're comparing car leasing Europe offers, don't just look at the communicated offers. Use Experteye's adjusted rental to get a more accurate comparison. Discover more such insights on https://experteye.com/latest-insight/.